St. Patrick Parish Pilgrim Statue of the Expectant Madonna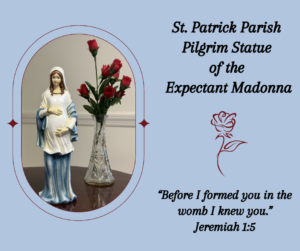 St. Patrick Parish welcomes the Pilgrim Statue of the Expectant Madonna!
Every October, we celebrate Respect Life Month. It is a time for us to consider more deeply why every human life is valuable and reflect on how to build a culture that protects life from conception to natural death.
In celebration of Respect Life Month and to help further the growth of a culture of LIFE in our parish community, St. Patrick Parish has been gifted with two beautiful statues of the Expectant Madonna by members of our Respect Life Ministry and fellow parishioners Jim & Kathy DiBrino. These statues will be blessed by Father Rogers during the 9 AM Mass on Sunday, October 1 in honor of Respect Life month. Afterwards, one statue will remain in the Sanctuary throughout the month of October and one statue will begin its travel to the homes of our parishioners.
As such, the Respect Life Ministry extends an invitation to all our parishioners and families to welcome the Pilgrim Statue of the Expectant Madonna into your home for a one-week visit (Sunday to Sunday). This can be a special way to gather your family together in prayer each day while contemplating the precious gift of LIFE. A Prayer Booklet complete with the Rosary for Life intentions and other prayers specific to the family and pro-life matters will accompany the statue to help deepen your prayer time. This devotion will be made available beginning Sunday, October 1 and will continue throughout the year. For more information or questions, contact Jen Keller at jenkellersp@gmail.com.
CLICK HERE TO SIGN UP TO WELCOME THE EXPECTANT MADONNA STATUE INTO YOUR HOME.