News & Events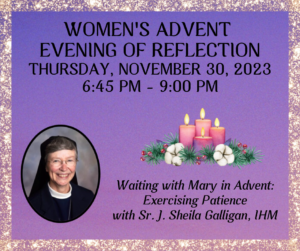 WOMEN'S ADVENT EVENING OF REFLECTION
Thursday, November 30, 2023
6:45 PM – 9:00 PM
St. Joseph Room
with Sr. J. Sheila Galligan, IHM
St. Patrick Parish warmly welcomes all the women of our parish, their family members, friends and neighbors to join us for a Women's Advent Evening of Reflection on Thursday, November 30, 2023 from 6:45 PM – 9:00 PM. Please join us for an evening of prayer, sisterhood, and reflection! All women are welcome for light refreshments & fellowship in St. Joseph Room at 6:45 PM followed by a talk and time of prayer.
This year we welcome back Sr. J. Sheila Galligan who presents Waiting with Mary in Advent: Exercising Patience. Surely admiration and veneration are apt dimensions of Marian devotion. However, another perspective is identification with Mary or the imitation of Mary. In a practical way this means that we say: "Here is a life and faith pattern which I can call my own!" This Advent reflection will probe the implications of the Marian descriptive "Blessed" with a special focus on "Patience."
This evening is for women and hosted by all women! Water, Coffee, Tea and Paper Products will be provided. While there is no cost to attend, all women are invited to contribute to the evening if able. Below are a few examples of how you can help make this evening extra special:
Assist with Decorating on Thursday, November 30 from 11:00 AM – 1:00 PM (decorations will be provided).
Greet & Welcome Guests (Please arrive by 6:30 PM)
Bring a bottle of wine
Bring an appetizer or dessert
Stay afterward to assist with room clean-up
To help us plan accordingly, please RSVP by Monday, November 27 to let us know you are coming and, if able, how you might like to help. You won't want to miss this opportunity to prepare your heart for the Advent Season!
To sign-up now online, click here.
You can also register by contacting the Parish Office at 610-444-4364. For questions, contact Jen Keller at jenkellersp@gmail.com or Maria Miller as mmillerdresp@gmail.com. Thank you.
---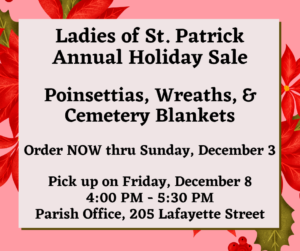 LADIES OF ST. PATRICK
POINSETTIAS, WREATHS, & CEMETERY BLANKETS SALE
NOW THROUGH DECEMBER 3, 2023
Finish your Christmas decorating with beautiful poinsettias and fresh green decorated door wreaths. Also, remember your loved one with a lovely cemetery blanket to place on their grave. Everything you order will be supplied by Whalen's Greenhouse.
Orders will be taken after all the Masses on the weekends of November 18 & 19, November 25 & 26, and December 2 & 3 out front of Church.  You can also return your order form to the Parish Office.
Order forms can picked up in the back of Church or in the Parish Office.  You can also download the order form here.
Please have order forms and money returned by Sunday, December 3, 2023. Call Kay Piergalline at 610-444-4951 with any questions. Checks should be made out to "Ladies of St. Patrick."
Pre-paid items will be available for pick up on Friday, December 8 from 4:00 PM – 5:30 PM at the Parish Office, 205 Lafayette Street. Please park on Lafayette Street.