CATECHESIS OF THE GOOD SHEPHERD
We Are Called by Name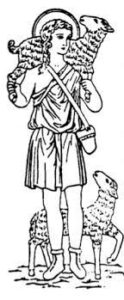 "The child, whom God is searching for, is asking us without words 'Help me to come close to God by myself.'" ~ Sofia Cavaletti
What is the Catechesis of the Good Shepherd?
The Catechesis of the Good Shepherd (CGS) is a religious formation approach for young children that came about through the work of two Roman Catholic laywomen in Rome, Sofia Cavalletti and Gianna Gobbi, based on scripture and liturgy that uses the educational and pedagogical principles of Dr. Maria Montessori. It is a contemplative and deep program based upon the observation that young children can and do experience God. Researched, tried and tested, CGS speaks to the child's need to "help me do it by myself." Here they learn hands on about the Mass and Jesus' life in order to nurture a relationship with Jesus, the Good Shepherd. For more information, visit www.cgsusa.org.

What is an Atrium?
One of the hallmarks of CGS is the Atrium, a specially designed room that offers the place and time for children to be who they are and to hear God's voice.  The atrium contains a variety of hands-on materials that are developmentally appropriate for the age range of children that they serve. In the atrium, children grow in their relationship with the Good Shepherd in a variety of ways. These include prayer, singing, silence, and by exploring Biblical parables, historical narratives and liturgical events with hand-on work. The child's personal work time is key for the guidance of Christ the Inner Teacher.
St. Patrick's Atrium is located in the Parish Religious Education Building. It has been especially designed with the child in mind, and all materials have been handmade and/or obtained from parishioners will love and care.
What are the ages of the children served by the CGS?
St. Patrick Church currently offers Level I of CGS for children ages 3 to 6 years old.
A child 3 to 6 years old…
Is already deeply connected with God, "Since I formed you in the womb I knew you" (Jer. 1:5). As they discover and begin to build relationship with people and the world around them their imaginative life which closely resembles prayer and the real world are merged without separation. This is an ideal time to introduce the little child to the person of Jesus Christ and His plan of Love for each of them.
Who is a CGS Facilitator?
The CGS Facilitator is an adult who is certified and trained over 90 hours to present this spiritual formation to the children who participate. The facilitator takes on a servant leadership role, using facilitation instead of direct instruction techniques. In addition to formation and training, the facilitator is vetted with background and security checks.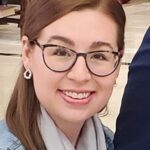 Our primary CGS Facilitator is Kelly Pin. Kelly is a certified Level I Catechist for CGS and has over 10 years of experience in the field of education. She has been a parishioner of St. Patrick's for 8 years now, and is very excited to work with the littlest disciples in the atrium this year. Her aim is to implement the profound work of Cavaletti and Gobbi, founders of CGS, so that the children may form a rich relationship with God and lay the foundation for fuller participation in the Liturgy.
When is Catechesis of the Good Shepherd offered?
CGS meets on Wednesday mornings from 9:30 AM to 11:00 AM. Orientation will be held on Wednesday, September 27, 2023 and sessions will run weekly / biweekly throughout the PREP year. Dates are subject to change.
How do I register my child(ren) for CGS?
There is a minimal fee to participate and Space is Limited. Please download the Registration Form found here. Once completed, please return the form and registration fee to Maria Miller at 205 Lafayette Street, Kennett Square, PA 19348.

Contact Us
Phone: 610-444-2214
Email: mmillerdresp@gmail.com
Email: kpin.teacher@gmail.com