LIVING STONES APPEAL – PHASE II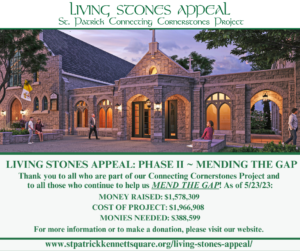 St. Patrick Church joyfully announced the start of the Living Stones Appeal in November of 2022.  This appeal continues through November of 2023 and has now entered PHASE II – Mending the Gap!  Your prayerful, generous, and sacrificial contribution for this endeavor is greatly appreciated! All monies collected will be solely for this project! Keep a watch here for regular progress reports.
All gifts are tax deductible to the fullest extent of the law. 
To learn more about ways to donate, please view our Living Stones Appeal Card.
To make a ONE-TIME online donation, click here.
To make a PLEDGE and schedule recurring electronic payments over the period of ONE YEAR:
1. Visit www.parishgiving.org
2. Existing members log into your Parish Giving Account / New members set up a new account
3. Select "Schedule New Contribution"
4. Next, select "Parish Collections"
5. Then, select "Living Stones Appeal" and follow prompts
If making a donation via check, please make check payable to "St. Patrick Living Stones Appeal."
THANK YOU FOR YOUR GENEROSITY!